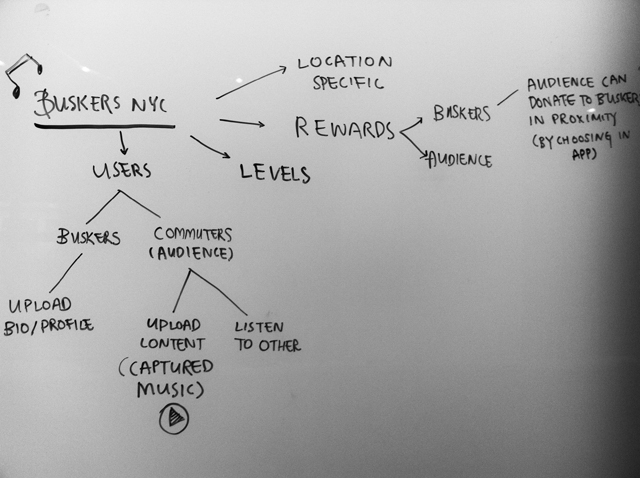 Coming across buskers in the New York Subway system is a delightful experience, but ends up being too fleeting like everything else in the city. We wanted to retain the surprise element while making the music available beyond the buskers actual physical presence.


We started out by mapping all the touch points that a commuter might encounter to see the possible areas that present an opportunity for creating an engaging experience for both the commuter and a busker.

We then went through several iterations for providing a reward and motivation mechanism to tie in strongly to the cause of promoting upcoming musicians in the city.

Video provided a clear way to create the first sketch of this service. It allowed users to record musicians into the app as they play in the subway, which would be geotagged with the locations and musician database from Music Under New York Initiative by the MTA. It also allowed them to explore each musician specifically.

As we developed this service further, we added elements like the ability to, use augmented reality to discover musicians that have played in the location before and be able to listen to them. As you click on the thumbnails for each musician, the silhouette would come alive and play a sample of music. Each of these musicians had a page which would then have all the recordings fed into their profile for fans.

Summary:
The MUNY app lets you record the buskers that you come across in the subway, with a geotagged location. Commuters can discover where previous performances at the particular station have taken place through the use of augmented reality. The audience can also access the musicians profiles where they can rate the music and see where the next live performance will take place. This way, the app is both serving true musical experiences to the audience at the same time as it is promoting the talented musicians and help them get discovered.

Project done in collaboration with Guri Venstad and Minnie Choi

Course: Prototyping User Experiences taught by
Clay Wiedmann, Robert Fabricant, Josh Musick, Jeff Hoefs

Click here to see more of my video prototypes from the course.